China is a land of diverse panoramas, from the urban hustle and bustle of Hong Kong and Beijing, to the wide open rural landscapes of Tibet. Within this land of contraction there lies much beauty, mystery, and adventure if you know where to find it.

The center of China is located at 35.86 degrees North latitude and 104.20 degrees East longitude.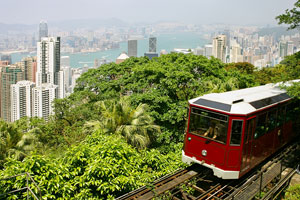 In southern China, a cruise through Hong Kong's Victoria Harbor on one of the green and white ferries that have been operating since 1898 affords unmatched views of Hong Kong's skyline, which is most magical at dusk. In close proximity to Victoria Harbor lies Victoria Peak, boasting the world's steepest funicular railway. It climbs to 1,805 feet where you can view the world's busiest harbor and 235 outer islands, as well as enjoy beautiful landscaped gardens and walking paths. Although the railway runs year round, the best time to go is from September through December.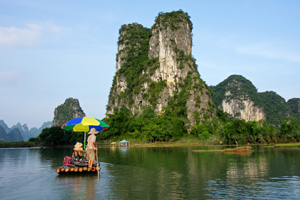 A cruise down the Li River in the Guangxi province of southern China affords views of breathtaking scenery as it winds its way through landscapes with names such as Bat Hill and Painting Brush Peak. The 50 mile cruise begins in Guilin, a city featuring lush vegetation and natural caves, and ends in the small town of Yangshou, where most of the locals speak English. An hour bike ride from Yangshou to the small riverside village of Xingping passes through striking emerald green landscapes abounding with rice paddies. Although cruises run year round, the best time to go is from October through April, when visibility is not compromised by the rainy season. A 1.5 hour bus ride returns travelers from Yangshou back to Guilin. Guilin can be reached via a 1 hour flight from Hong Kong or a 2.5 hour flight from Beijing.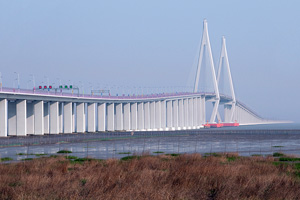 Hangzhou, in eastern China's Zhejiang province, offers a glimpse of old China, especially at sunrise. The shores of Hangzhou's West Lake are lined with pagodas, teahouses, and landscaped gardens lush with willow trees. Seasonal flowers include lotus blossoms, orange-scented acacia, plum and peach blossoms. Travel by hired boat to the Island of the Hill of Solitude, which features the 150 year old Louwailou restaurant. Enjoy a stay at the luxurious Shangri-la Hotel located on the northwest bank of West Lake. Hangzhou can be reached via a 2 hour flight from Hong Kong or Berlin, or via a 3 hour train ride southwest from Shanghai. While in Hangzhou, be sure to check out the 22-mile long Hangzhou Bay Bridge, the longest sea-crossing bridge in the world.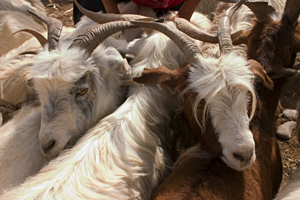 In far western China can be found the city of Kashgar, in the Xinjiang province of China. Despite its remote location, Kashgar features what is Asia's, if not the world's, largest outdoor market. This weekly market takes place every Sunday and has been ongoing for over 1,000 years. The Sunday Market in Kashgar is attended by roughly 100,000 to 150,000 people who come to trade, sell, and haggle over various animals and wares, including horses, cattle, sheep, spices, fruit, fur hats, daggers, and carpets. Tours following China's Silk Road often start in Xi'-an and end in Kashgar. It can also be reached via flight from Hong Kong or Beijing to Urumqi, the capital of the Xinjiang province, and an additional two hour flight from Urumqi to Kashgar. If you wish to see more of the countryside, Kashgar can also be reached by a three day train ride from Hong Kong or Beijing.
China's history dates back thousands of years, and much of its charm and culture can still be discovered alongside more technologically modern urban centers. China truly provides something to discover for every traveler.
---
Copyright © 2010-2023 Map-Of-China.org. All rights reserved.

China Address Locator Map